A quick montage of a walleye trolling charter on the "Pirate Clipper"..... if you LIKE, please SHARE !!!!

Posted by 'Eye-Catcher Charters on Wednesday, May 27, 2015
...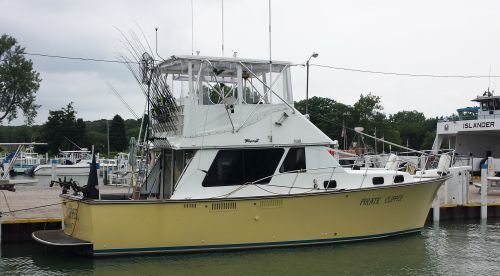 "Pirate Clipper" - one of western Lake Erie's largest and most recognized private Lake Erie Fishing Charter boats, provides a safe, comforatable, and dry ride, roomy interior, and spacious rear deck for fishing! Also available for Island Hopping and Evening Harbor Cruises!
Lake Erie's Western Basin - The Walleye Capital of the World!!!

Why book your Lake Erie Fishing Charters with 'Eye-Catcher Charters? When you book your Lake Erie Fishing Charters with us you'll be provided with an experienced Lake Erie Fishing Charter Captain, top quality equipment and tackle, and a U.S. Coast Guard Inspected Lake Erie Fishing Charter Boat. Our U.S. Coast Guard Licensed Lake Erie Fishing Charter Captains have years of experience charter fishing the waters of Lake Erie. We are a full-time Lake Erie Fishing Charter service, fishing 7 days a week, which gives us the knowledge to keep you on the fish!

Lake Erie Fishing Charters - It doesn't matter if you've never fished before in your life, or if you're a seasoned, avid angler, 'Eye-Catcher Charters Lake Erie Fishing Charters can give you the best charter fishing experience available! Whether you prefer to jig, cast, or troll for Trophy Lake Erie Walleye, drift and cast for Smallmouth Bass, or anchor up on a huge school of Lake Erie Yellow Perch - our Lake Erie Fishing Charters are the best choice!
Call TODAY to book the finest Lake Erie Fishing Charter experience available!
Capt. Eric Litton
614-679-2616