Welcome to 'Eye-Catcher Charters - Lake Erie Fishing Charters for Walleye or Perch
---
Advantages to booking your Lake Erie Fishing Charter with us:
For only $12 more per person**, this is what you get with 'Eye-Catcher Charters ---
>> BIGGER BOAT - Your average Lake Erie charter boat weighs about 8,000 lbs. The 'Pirate Clipper' weighs in at about 30,000 lbs., and at 42' overall, makes her the second largest full-time private charter boat on the lake. This means a smoother, safer, and more comfortable ride for you.

>> Full-Time Charter Operation - We fish 7 days a week. This lets us keep up with the constant movement of the fish. Also, weekday fishing on Lake Erie is extremely productive and enjoyable due to the greatly reduced boat traffic and fishing pressure.

>> 50+ Years Combined Experience - let Capt. Eric Litton and First Mate Jon Miley's years of fishing experience provide you with an incredible Lake Erie fishing charter.

>> Participation - We're not out there to 'do it all for you'. We want to teach you how we successfully and consistently pull limits of Lake Erie Walleye. We're there to guide you through the process of lure and depth selection, setting rods, recognizing strikes and hook-ups, and fighting the fish all the way to the net. As my First Mate likes to say, "This ain't the Little Jon Fishing Show!"

>> Top Quality Fishing Gear - All gear is provided to NO EXTRA COST! No $15 Ugly Stik™'s here! We use Shimano Talora™ rods equipped with Okuma Convector™ reels. You'll appreciate the difference!

>> Fully Enclosed Salon - provides complete protection from the weather. Don't let a 15 minute rain shower ruin your whole day by getting soaked! Enjoy our climate controlled interior, comfortable seating, full galley, and fresh coffee. Also, a flat panel TV and DVD player, perfect for groups with children who would prefer to watch cartoons or movies while the rest of the group catches fish!

>> Full Private Bathroom Facilities - Ladies especially will appreciate our full bathroom, with electric flush toilet, and hot/cold fresh water system. Even for the men, our bathroom facilities onboard are far superior to a bucket on the deck!

>> Easy Boarding - for anyone with limited mobility, step aboard easily through our dock-height tuna door, with only minimal step heights onto the rear deck and into the salon.

>> Location - Port Clinton / Marblehead / Lake Erie Islands = The Walleye Capital of the World! The sheer number and size of the fish here are not found anywhere else in the world. Docked at Anchors Away Marina, we're only minutes from the lake. On shore, we're only minutes from numerous restaurants and attractions, including Marblehead Lighthouse, Cedar Point, and ferry service to all of the islands.



**based on 6 person charters. From Google search for Port Clinton, OH fishing charters, we compared 15 random charters pricing, for full day, walleye, trolling charters for up to six people. Average rate for 27' to 30' open Lake Erie Fishing Charter six person boats were found to be $726 per day.
---
...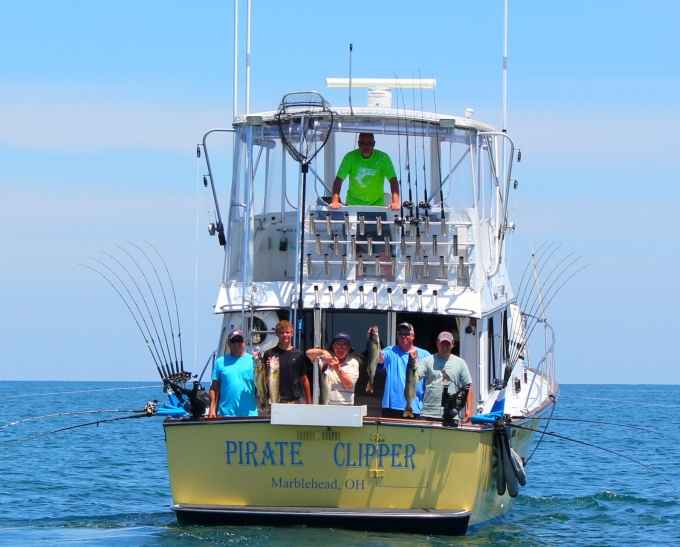 "Pirate Clipper" - one of western Lake Erie's largest and most recognized private Lake Erie Fishing Charter boats, provides a safe, comforatable, and dry ride, roomy interior, and spacious rear deck for fishing! Also available for Island Hopping and Evening Harbor Cruises!
A quick montage of a walleye trolling charter on the "Pirate Clipper"..... if you LIKE, please SHARE !!!!

Posted by 'Eye-Catcher Charters on Wednesday, May 27, 2015
Lake Erie's Western Basin - The Walleye Capital of the World!!!

Why book your Lake Erie Fishing Charters with 'Eye-Catcher Charters? When you book your Lake Erie Fishing Charters with us you'll be provided with an experienced Lake Erie Fishing Charter Captain, top quality equipment and tackle, and a U.S. Coast Guard Inspected Lake Erie Fishing Charter Boat. Our U.S. Coast Guard Licensed Lake Erie Fishing Charter Captains have years of experience charter fishing the waters of Lake Erie. We are a full-time Lake Erie Fishing Charter service, fishing 7 days a week, which gives us the knowledge to keep you on the fish!

Lake Erie Fishing Charters - It doesn't matter if you've never fished before in your life, or if you're a seasoned, avid angler, 'Eye-Catcher Charters Lake Erie Fishing Charters can give you the best charter fishing experience available! Whether you prefer to troll for Trophy Lake Erie Walleye, or anchor up on a huge school of Lake Erie Yellow Perch - our Lake Erie Fishing Charters are the best choice!
Call TODAY to book the finest Lake Erie Fishing Charter experience available!
Capt. Eric Litton
614-679-2616